Why to Use Metal Wall Tiles For Backsplash
Once in a couple of years we all make renovation of our kitchen. During that time we may decide to change not only the look but the way the kitchen is functioning for us. More and more often we consider current trends in interior design by installing backsplash into our kitchens. In present time very popular is backsplash made of handmade copper, brass or stainless steel tiles.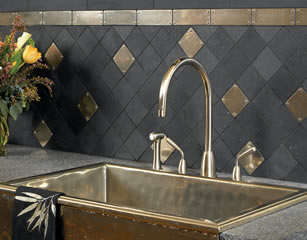 Backsplash
Backsplash is the most recommended place to use of copper tiles, because the copper is germs killer.
Copper in the kitchen keeps the cooking area lower temperature and prevents the kitchen from fire because impervious to the heat from ovens.
Copper tiles for backsplash are also as a piece of art on the wall if we order to install a handmade copper tiles with ornaments.

Another place where we can use copper tiles is the floor in kitchen.
Backsplash is very practical element of every kitchen that protects the walls above working surfaces but it can also work as decorative part of the kitchen. By incorporating different textures and shapes of the backsplash tiles you can create a unique look. On the market there are many options for wall tiles to use in the kitchen. We often overlook metal wall tiles because we are used to ceramic or stone tiles in the kitchen. Metal wall tiles are comparable in quality to ceramic or stone tiles and are an excellent option for any kitchen.
The most popular materials among people for backsplash are stainless steel, copper and brass tiles.
Metal wall tiles are very easy to clean because they do not absorb stains. It's as easy as wiping them off with warm water and sponge. Their surface is moisture resistant, so they will not break or fade like any other plaster tiles. Metal wall tiles are long-lasting and resistant to damage. That's why they are perfect for backsplash material.
Copper tiles backsplash
Copper tiles backsplash will make your kitchen stand out from others by creating on them beautiful and unique designs. People appreciate copper's deep metallic color which makes it so popular. Copper tiles backsplash is long-lasting choice which also resist high temperature that appear in the kitchen in the cooking area. It is also resistant to corrosion.
Brass tile backsplash
Another very popular choice is brass tiles backsplash. It's look add a touch of luxury to a modern space in the kitchen. Very often it has a bright gold appearance but it can also be reddish-gold or silvery white and it is an alloy of both copper and zinc. Brass tiles backsplash as well as copper tiles backsplash may last up to 50 years.

Stainless steel backsplash
As well as copper and brass another metal used for backsplash is simply stainless steel.
Stainless steel backsplash brings simple and modern look to the kitchen. It can be single cut or made of different shapes and patterns on it. This kind of backsplash will brighten up the whole space. Stainless steel backsplash will reflect light and give the illusion of space, a fantastic option for compact spaces. It is hard-wearing and easy to clean which makes it ideal for busy homes.
Profits of using metal backsplash
Metal wall tiles became a popular choice in designing kitchens, so they won't be going away any time soon. One of the more unusual kitchen backsplash ideas, brass and copper surfaces hold antimicrobial properties, which make them a great choice for busy kitchens.
People very often decide for copper, brass or stainless steel due to their amazing appearance and high level of resistance. Metal wall tiles used in the kitchens will look simple, elegant and unique with some great design.
Shark Vacuum designed to make your life easier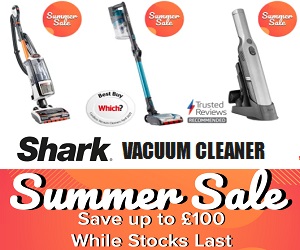 Home cleaning doesn't have to be a chore. Shark Vacuum was developed to innovate cleaning solutions for better home living. Shark enjoys global recognition with its dedication for innovation and quality of their products. From their wide range of premium vacuum cleaners and steam mops, Shark's technologies are engineered in-house and developed through comprehensive consumer testing and feedback, to combat your real-life cleaning challenges. Visit sharkclean.co.uk for latest products, special deals and for your peace of mind, they offer free extended guarantee of up to 5 years for all vacuum cleaners.
Tags :
SharkClean