Orangeries – Tips on Building And Some Mistakes to Avoid
An orangery is one of the most preferred options of house extension for most of the homeowners in West Sussex. They find it cost-effective and easy-to-build. A finely constructed orangery will solve your space issue and provide you with beautiful extra space that can be used for multiple purposes. However, there are some common mistakes that often the homeowners make while building an orangery.
Today, we will discuss those mistakes that must be avoided and offer some orangery building tips to make your job easier and better.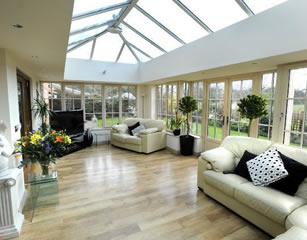 Building Tips
Determine the Purpose: Before you hire an orangery contractor and start building the extension, you should determine the purpose of having it. Why do you need an orangery? The answer is crucial because you may need to add some additional features to the extension as per your specific requirements. For example, if you wish to use it as a kitchen extension, then you will need to have plumbing lines and water supply in that room. On the other hand, if you will use this place as a kids' playroom, then such requirements will not be there. So, decide your purpose and then start your planning accordingly.

Draw the Plan: Keeping the plans in your brain may make you feel confident, but it would not be a practical way to build an orangery. You should always draw the plans of the design and show it to your orangery builder. They can also provide you with the drawings to get the plans approved.
Get Approval: You need approval for a house extension, and the regulations can vary as per the local housing councils. Hence, it is necessary to be aware of your local housing council's regulations before investing in orangery building. Ensure that your project has the approval of the authorities and will follow the regulations correctly.
Know about the Styles: There are two types of orangeries based on their design; contemporary and traditional. You should do a bit of research about the differences between these two designs to understand which one would suit your needs perfectly. This will make your project flawless. You should also contact the builders who have vast knowledge about building both these types of extensions.
Insulation: Since orangeries are built to provide you with a cozy and pleasurable space, you need to ensure that the room will remain comfortable throughout the year. Check the insulation system and ensure that the room will never get too hot or too cold as per the changes of the season.

Mistakes to Avoid
Never choose the style which does not suit the existing architecture of your house. This will reduce the curb appeal of your property instead of increasing it.
Never choose cheap materials to save cost. You should focus on building an orangery which will not only look stylish but remain durable for many years.
Plan the lighting, plumbing and heating for that room from the very beginning. Do not concentrate only on the aesthetic part of the orangery.
Never ignore the landscape outside the orangery. A well-built orangery on a messy landscape will not look attractive. Clean the ground and keep the surrounding area neat to prepare a perfect base for your new extension.
Do not consider orangery building as a DIY project. Always hire the experts of orangery building. There are several factors that are crucial to making the orangery look smart and strong. You must have professional assistance.
Do not hire any company without comparing the price.
VEVOR.com products are high quality with unbeatable prices.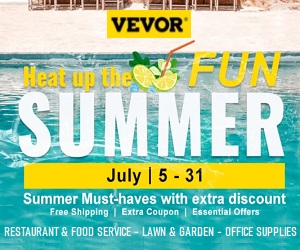 VEVOR specialized in Business and Industrial Products, Kitchenware, Machinery Tools, Sporting Goods, Pet Products, Home and Garden products. They are always committed to supplying an incredible assortment of excellent quality products with unbeatable prices. VEVOR offers 30 DAYS FREE RETURN, 12 MONTHS WARRANTY, SHIPPING IN 24 HOURS and FREE DELIVERY WITHIN 5 DAYS. For products and discount promotions, visit vevor.com for more details.
Tags :
VEVOR