Iranian Black Marble That Will Glam-Up Your Interior Spaces
The dark and mysterious black marble is trending worldwide. It is specifically used in building designs for having a luxurious, and more importantly, an industrial look. The Iranian marble stone is the one you need to take a look at right away. Decorated with beautiful patterns of gold, they are the perfect material for home décor and commercial spaces.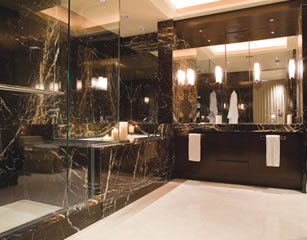 Types Of Iranian Black Marble
Golden marshal
It is a famous and unique stone quarried in Iran. The dark background of the stone is decorated with white and golden stripe patterns. The diffusion of fossils tightly makes it perfect for crowded designs. The Golden Marshal is also called as golden black marble . It is one of the prettiest dark marble which is quarried from Kashan and Isfahan in Iran.
It is considered to be one of the best decorative stones in the world because of its unique beauty. The stone is suitable for both interior and exterior use such as walls, flooring, kitchen, countertops and decorative pieces.
Persian black and gold
The dark background of Persian black and gold marble is decorated with beautiful thick golden veins on its surface. The veins are distributed unevenly and have a touch of yellow at few places. Also known as Persian Portoro, the stone comes from Hamedan in Iran. At first, the stone leaves a lot to desire but with fine polishing and shaping, it will meet your standards.
Similar to the Golden marshal, the stone is used for various design projects for interior designing. It is used for flooring, walls, countertops, vanity tops and others. It can be processed into different types of finishes such as honed, polished, tumbled and so on.
Golden galaxy
Golden galaxy is extracted from the same regions as the Golden marshal. It has an attractive look with distinct veining patterns on the surface. It is decorated with irregular golden lines with a pinch of yellow, white or red in some marble slabs.
With a high polished finish, the marble work wonders for interior wall and floor applications, tabletops, bathroom spaces and other design projects.
Black Marble Ideas For Interior Décor
Kitchen
In modern times, black marble kitchen applications look best, contrasting with the wooden cabinetry and the flooring. A beautiful dark backsplash matching with the countertop is an interesting idea. Moreover, installing wooden chairs or stools will enhance kitchen aesthetics.
For using dark colored stone in the kitchen, you need to keep in check the use of lighting that will blend the black with other surfaces.

Bathroom
The next is the bathroom. There are plenty of ways in which you can use Iranian stones for these small and closed spaces. A white freestanding bathtub will complement well with the dark wall while neutralizing the rest of the décor. You can also turn the wall into a statement piece. Like an abstract painting, it will elevate the overall ambience of the bathroom.
Many different interior designs can include black marble. You can add a touch of wooden counters or cabinets in black and white bathroom design. Black can go everywhere right from the top to the bottom, but keep in mind that you will need to find ways to neutralize the dark shade of the stone.
Tabletops and Decorative pieces
For other spaces in your interiors, you can use black as a decorative piece. A beautiful mosaic of Persian black gold will look amazing in your living room or bedrooms. A black marble dining table with wooden chairs will look great to create a classy, industrial vibe. For using black in any of your home space, you need to be very thoughtful of one thing, the lighting.
Final Thoughts
Marble can be used in home spaces and commercial spaces such as restaurants and offices. The black marble stone is a perfect material to create the modern yet sophisticated look in any surroundings. This Iranian stone with golden veins elevates the overall look when used with other natural stones and materials.
Mattress Online: Choose the right mattress for Worry-free sleep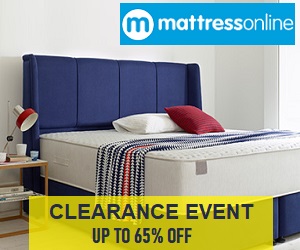 Mattress Online is a UK-leading retailer of mattresses and beds whose only goal is to get you sleeping better. They've got so many mattresses – over 18,000 and it's the largest online stockiest of mattresses in the UK and can deliver it to your room of choice, completely free of charge on the next day. Buying your new mattress shouldn't be hard, for simple shopping of mattresses visit Mattressonline.co.uk for huge discounts that awaits you today.
Tags :
Mattress Online UK