Invest On These Technologically-Advanced Multi-Cookers
We are aware that gadgets are here to make our life convenient. People sometimes invest in products that will help them save time. Also, most of us want to buy items that help us finish tasks without exerting too much effort. Recently, multi-cookers became a trend for individuals who enjoy cooking.
The gadget can do many things. It can also offer people convenience when preparing a meal. Since it became a trend, many manufacturers have their versions on the market. You can see many options on the internet and even at physical stores. We are here to help you narrow down your choices and decide. Below, we highlighted a few multi-cookers for you.
7-in-1 Electric Pressure Cooker From Instant Pot
People who enjoy cooking know that electric pressure cookers are now in the form of multi-cookers. We looked for a complete-package product and saw the 7-in-1 Electric Pressure Cooker. It is a kitchen gadget from Instant Pot that offers many excellent features. You can count on what it can do, like steam, sauté, and even keep the foods warm. The product has Quick-cool Technology to help release pressure. Some of the reviews said that this model is reliable and precise, plus it can cook foods perfectly. Also, you can choose between sizes 6- and 8-quart.

4.5-Quart Digital Multi-Cooker By Hamilton Beach
Some buyers in the reviews said that the 4.5-Quart Digital Multi-Cooker by Hamilton Beach is for singles. It is compact and wallet-friendly. The multi-cooker is for parties, vacations, and other events that need food warmers. Also, it has a removable aluminum pot that you can wash using a dishwasher. It has features like a delay timer and cooking options. You can count on this item if you are looking for an extra cooker for your side dishes, especially if you already have a larger one at home.
MSC-800 Cook Central 4-in-1 Multi-Cooker From Cuisinart
You can count on this multi-cooker because it has more cooking space to offer. Some people like cooking for their large families and this is for them. It has excellent features and cooking functions, like a roast, sauté steam, and slow cook. Also, you can customize the steam. Consider this kitchen gadget and enjoy the three levels of slow cooking. You can choose between warm, simmer, or low. While roasting, you can set the temperature to 250 to 450 degrees. The pot of this multi-cooker has a nonstick coating which makes it easy to wash and clean.

All-in-One Programmable Multi-Cooker From De'Longhi Livenza
Sometimes we want to buy products that are easy to clean after eating and serving. You can check out the All-in-One Programmable Multi-Cooker from De'Longhi Livenza. It has two dials that you can use to control the cooking mode and temperature you want. The kitchen gadget can make the food warm and served perfectly.
4-Quart Multi-Cooker From KitchenAid
Most buyers look for a particular design of a product. Check out the 4-Quart Multi-Cooker from KitchenAid. It has side handles, a jaunty lid, and a control panel. It would be best to invest in this item if you are looking for the best-designed multi-cooker.
Shop online the product you are looking for with Aosom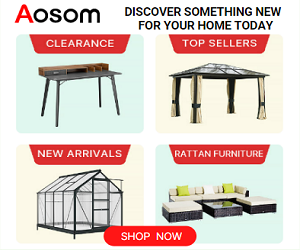 Aosom is a global company specializing in online sales for home furnishings, fitness and outdoor equipment, items for pets, children's toys, hobbies and leisure. Offering their customers with high quality products at a factory price without unnecessary and expensive intermediary steps. They have a massive product catalog of over 200,000 carefully selected items, Speed of delivery, professional Customer Service and competitive price to satisfy customers as they purchase them. Visit Aosom.co.uk and don't miss the deals and promotions only offered at their page.
Tags :
AOSOM